North Scottsdale Drug Rehab
Find freedom from substance abuse at Cornerstone
Beautiful North Scottsdale Drug Rehab Facility
Cornerstone is a North Scottsdale drug rehab facility offering several levels of care to treat substance abuse. 
Our treatment levels of care are residential, partial hospitalization, outpatient, and intensive outpatient programs.
Are you ready for real change? Let's start on this journey together.  We offer evidence-based practices and holistic approaches tailored to each individual's needs. 
At our luxury rehab center, we provide a safe, comfortable atmosphere for recovery. 

Addictions we treat at
Cornerstone
View Our Facility in Scottsdale
Cornerstone Healing Center is a North Scottsdale drug rehab facility committed to helping people change their lives by overcoming addiction.
Our beautiful state-of-the-art facilities boast many beautiful amenities. 
More importantly, our experienced and caring staff of therapists and behavioral specialists are here to help you every step.
Cornerstone believes in the holistic treatment of the mind, body, and spirit. The curriculum we use is like no other in that we utilize both traditional and alternative treatment methods proven to work.
Our clients experience transformational changes and healing. Addiction doesn't have to be the end of the road for anyone.
We know from much experience that recovery is possible. We offer several levels of care at our North Scottsdale facility, including our long-term recovery coaching and alums programs that help us guide our clients for years to come.
Ready to get started? Let us help you by verifying your insurance and find out what type of treatment your health insurance policy covers. Visit our insurance verification form.
We treat addiction by combining science, spirituality, and health improving therapies, treatments, and activities. Our main treatments are individual therapy, group therapy, family therapy, process groups, EMDR, and cognitive behavioral therapy. We also provide nutritional support, exercise treatment, yoga, and meditation.
Eye Movement Desensitization and Reprocessing (EMDR)
EMDR is integrated into our trauma-focused addiction treatment approach. EMDR is a psychotherapy treatment used to alleviate psychological distress. 
It is based on the principle that when a particular traumatic or distressing experience is adequately processed, it can be resolved and associated symptoms can be eliminated. 
EMDR has been found to be an effective treatment for many issues such as addiction related trauma, post-traumatic stress disorder (PTSD), anxiety, depression, and more.
Cornerstone provides individual therapy for addiction. Our staff includes addiction experts who use an integrated approach to help individuals identify triggers and develop coping skills. 
We believe in treating the whole person, not just the symptoms of addiction. Our team works with clients to understand their unique experiences and create a personalized treatment plan focusing on healing from all aspects of their lives. 
We strive to empower our clients to make positive, sustainable changes in their lives. We understand that each person is unique and needs specialized care to reach recovery.
Group therapy brings clients together to go over important topics for all who struggle with addiction to learn. Presentations can range from videos on addiction, therapist presentations, and demonstrations of stress or anger coping skills.
Transitioning from addiction to sobriety is a challenging task. You need a grounded support system to guide you through. Family therapy is essential for rebuilding bonds during the drug and alcohol rehab process so that you have people who care about you surrounding you during your recovery.
Your therapist will help you to work in time for family therapy during your residential rehab treatment. Family therapy sessions may last for 1-2 hours and involve you and your family member(s). Strengthening the relationship between our clients and their family members is a major area of priority for our clinicians. Clients who include families in their treatment process are more likely to stay sober or clean long-term. 
Our North Scottsdale Clinical Team
Lionel is a Licensed Independent Substance Abuse Counselor (LISAC) with over 4 years at Cornerstone. Passionate about helping those with addiction and mental health struggles, and he has trained as an EMDR therapist, adopting a trauma-informed approach to find and treat underlying root causes with empathy.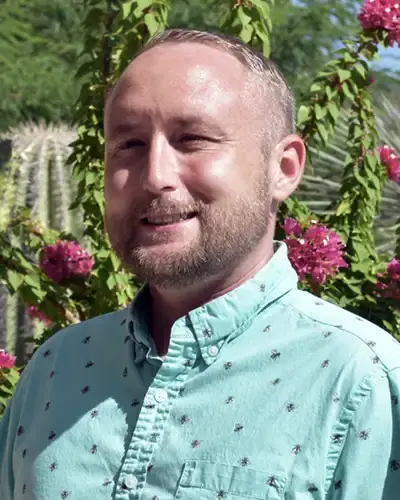 Nate began his own recovery journey in 2010 and earned a Master's in Social Work from ASU. He's been in the Behavioral Health field since 2013. Specializing in CBT, DBT, and grief, Nate's role includes being a Primary Therapist and Clinical Lead, underlined by his passion for helping others who struggled as he did. 
FAQs About

Cornerstone
Get answers to the most commonly asked questions about Cornerstone Healing Center.
How do I know Cornerstone is the right facility for me?
At Cornerstone Healing Center, we strive to provide a drug rehab program that is tailored specifically for each individual. Our staff of highly-trained and experienced professionals are dedicated to helping you identify the underlying factors contributing to your addiction, so you can get to the root cause of your emotional distress.
We understand that everyone's journey through recovery is different and provide evidence-based treatments to address your needs. From individual counseling to group therapy, we have the resources to support you on your path to recovery.
We also provide holistic therapies such as yoga, meditation, acupuncture, and massage therapy which can be an important part of the healing process. Our program is designed to help you develop a strong foundation for life-long sobriety and to promote lasting change in your life. 
At Cornerstone Healing Center, we are committed to providing the highest quality of care while respecting your individual needs and concerns. We will provide you with a safe and secure space to explore your feelings and work through any issues that may be preventing you from achieving recovery.
What is the process to get admitted into your facility?
The process of beginning treatment at Cornerstone's North Scottsdale drug rehab facility is straightforward. Our admissions team will guide you through the entire process. 
First, it starts with a call, or you can submit an insurance verification so that we can get a verification of benefits to determine exactly what your health insurance covers. 
We know that navigating health insurance coverages for treatment can be confusing, so our admissions team will give you the exact details of your policy and tell you what everything means and what would be required for you to come to treatment. 
If you don't have coverage, we will work out the financial aspect of treatment with you. 
Once all of these details are worked out, we will set a date for admission. 
Still have questions about treatment?
Our admissions specialists are here to explain the process, answer any questions you may have, and ensure you're getting the help you need to live a healthy life free from addiction.
Call and speak with one of our caring team members about help for you or a loved one.