Outpatient Rehab
For Addiction
Begin an empowering transformation at our outpatient drug rehab in Arizona
About Cornerstone's Outpatient drug rehab Program
We offer transformative Outpatient drug rehab programs for Substance Use Disorders in Arizona.
Our program is designed to provide comprehensive support and guidance for individuals seeking a path to healing from drug addiction and alcoholism.
Our standard outpatient program is a step down from our Intensive Outpatient program. It is held three days a week, with a flexible schedule that accommodates your commitments and responsibilities.
Cornerstone's support extends beyond the treatment itself – we also provide supportive housing options for those in our outpatient programs who are in need of stable housing to get through their time in our program.
We believe in the power of community and offer a safe, nurturing environment where individuals can rebuild their lives.
Recovery is possible, and we are here to support you every step of the way. Don't wait any longer – take the courageous step towards a brighter future by calling us today.

Addictions we treat at
Cornerstone
About Our Outpatient Drug rehab Program
Below is the list of the features we offer at our facility
Cornerstone's Approach to Addiction Treatment
Our outpatient rehab center employs a unique methodology combining scientific evidence with the transformative power of spirituality, creating an environment where profound healing can occur. Our experienced and compassionate team is dedicated to helping individuals shattered by addiction heal from the inside out. We provide a structured framework that encompasses therapy, counseling, educational sessions, and support groups. We believe in the true power of personal growth and encourage soul-searching and self-discovery as integral parts of the recovery journey, which will hopefully last a lifetime. In addition to our comprehensive treatment program, we emphasize the importance of having fun and finding joy in the healing process.
About Our Arizona Outpatient Program
Our program is distinct in its approach to recovery. We harmoniously blend the latest scientific methods with a profound, spiritual healing process. 
This unique approach sparks a miraculous, rapid healing event sufficient for long-term recovery. You are not just overcoming addiction, but also renewing mind, body, and spirit.
At our outpatient treatment facilities, we provide the freedom to continue with your day-to-day activities while still making your recovery a top priority. This is the essence of an outpatient program. 
Rather than living full-time in a treatment facility, outpatient rehab allows you to live at home while receiving care and participating in structured, therapeutic activities during the day. However, for those who need it, we do also offer supportive housing. 
Outpatient rehab at Cornerstone gives you the chance to navigate the real world while receiving support and guidance. In the journey of recovery, that support plays a critical role. 
Maria Tisci - Alumni Testimonial
Watch the testimonial from one of our treatment alumnus:
"Having support from people who have gone through things that you've gone through and understand you and not judge you, and you can tell that they actually want to help you. It was something I had never had before."
Maria's experience at Cornerstone Healing Center
Therapy in the
Outpatient Program
In our Outpatient Program, the bedrock of treatment is individual therapy. This involves customized, one-on-one assistance, tailored to tackle the specific circumstances and hurdles that are unique to each client's journey towards recovery.
The significance of group therapy is undeniable. It cultivates a nurturing communal atmosphere that promotes the exchange of experiences, shared personal development, and collaborative healing on the path to recovery.
Within any program the role of family therapy is crucial. It helps foster a sense of understanding and healing within familial relationships, strengthening the client's personal support network and promoting a more successful recovery journey.
Who Benefits From
Outpatient Drug Rehab Programs
Individuals Post Inpatient Treatment
Outpatient rehab provides a structured environment for continued recovery while allowing individuals to reintegrate into regular life.
People with Mild to Moderate Addictions
Suitable for individuals with mild to moderate substance use disorders who don't require intensive care but need professional assistance.
Those Balancing Treatment and Daily Responsibilities
Offers flexibility to receive treatment without major disruption to daily routines such as jobs, family care, or schooling.
Individuals Seeking a Supportive Community
Group therapy and community-based activities foster mutual support and shared learning, alleviating feelings of isolation.
Individuals Requiring Continued Care
Beneficial for those requiring ongoing support post-detox to maintain sobriety and prevent relapse.
Meet Our Outpatient Clinical Team
Lionel is a Licensed Independent Substance Abuse Counselor (LISAC) with over 4 years at Cornerstone. Passionate about helping those with addiction and mental health struggles, and he has trained as an EMDR therapist, adopting a trauma-informed approach to find and treat underlying root causes with empathy.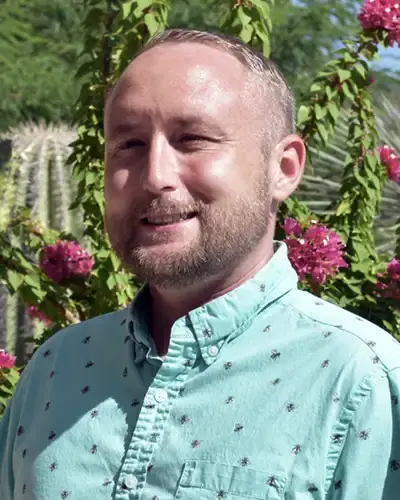 Nate began his own recovery journey in 2010 and earned a Master's in Social Work from ASU. He's been in the Behavioral Health field since 2013. Specializing in CBT, DBT, and grief, Nate's role includes being a Primary Therapist and Clinical Lead, underlined by his passion for helping others who struggled as he did. 
Outpatient vs. Inpatient Rehab
Inpatient rehab provides full-time care, with patients living onsite. It typically includes medical monitoring, therapy sessions, and support groups.
Intensive treatment, 24/7 medical support, structured environment, fewer distractions or triggers.
More disruptive to daily life, higher cost, less privacy.
Outpatient rehab allows patients to live at home (or in supportive housing provided by the treatment center) and attend treatment sessions at an outpatient facility. Treatment may include therapy sessions and support groups.
Greater flexibility, less disruptive to daily life, lower cost, allows application of learned strategies in real-world environment.
Potential exposure to triggers, less medical support, requires more self-discipline.
FAQs About

Outpatient Rehab
Get answers to the most commonly asked questions about outpatient rehab treatment.
What is outpatient rehab?
Outpatient rehab presents an exceptional avenue for individuals seeking treatment for substance abuse or addiction. In this program, clients engage in customized counseling sessions and recovery activities throughout the week, allowing them to address their unique needs.

This setup offers the flexibility for individuals to continue their daily routines while still receiving structured support necessary for their recovery journey.

Outpatient rehab incorporates a blend of therapeutic approaches, including individual, group, family, and holistic therapies. These are carefully designed to foster an environment of empathy and facilitate the healing process.

By synergizing these services, we enable patients to enact lasting changes in their lives, progress with heightened self-understanding and confidence, and create healthier life trajectories.

Given its benefits, outpatient rehab is ideally suited for those who wish to liberate themselves from the shackles of addiction, all while maintaining their regular routines and responsibilities.
What does an outpatient drug rehab program cost?
The cost of an outpatient treatment program depends on whether or not you have health insurance, or if you're paying with cash.

Please call admissions to get additional information.
Is outpatient treatment for addiction effective?
Yes, outpatient rehab for addiction can be highly effective. Various studies have shown that outpatient treatment programs can be just as effective as inpatient (residential) programs for most individuals, especially when the programs are comprehensive and tailored to the individual's needs. This includes services like individual counseling, group therapy, family therapy, medication management, and other holistic approaches to care.

It's particularly beneficial for individuals who have strong support systems at home. The effectiveness also relies heavily on the commitment and participation of the individual in their treatment plan. It's crucial to remember that recovery is a long-term process that often requires ongoing support and care, even after the completion of a rehab program. Ultimately, the best program depends on the person's unique circumstances, including the nature and severity of their addiction, their personal and financial situation, their health condition, and their support network.
How long will I stay in treatment?
Our outpatient program lasts from 4 to 8 weeks.
What is outpatient program aftercare like?
At Cornerstone, the aftercare of our outpatient program is designed with long-term success in mind. We understand that the journey of recovery continues long after the completion of the initial treatment program.

Aftercare includes individualized support plans that are developed with each client to help them maintain sobriety and continue to grow in their recovery journey. These plans typically include components like ongoing therapy sessions, support group meetings, educational resources, and lifestyle recommendations.

Clients will have access to individual counseling, where they can continue to explore underlying issues related to their addiction, work on personal growth, and deal with any new challenges that arise in their life.

In addition, group therapy sessions are available to offer a space where clients can continue to share experiences, gain insights, and offer support to one another. We know the power of a supportive community in bolstering one's resolve and providing motivation.

Family therapy also forms a vital part of aftercare, as addiction often affects the whole family. Through these sessions, families can continue to heal, build better communication, and understand how to support their loved one in recovery.

Finally, lifestyle recommendations and educational resources are provided to help clients create a healthy lifestyle that supports their sobriety. This could include nutrition advice, exercise routines, stress management techniques, and more.

The goal of our aftercare program at Cornerstone is to provide a holistic, comprehensive approach to continued recovery. We aim to support every client in building a strong foundation for a healthier, substance-free life.
Can I smoke at your rehab center?
Yes, you can smoke at our rehab center. However, in order to respect all of our clients and maintain a safe and healthy environment, we have designated smoking areas. These spaces are specially set aside for those who choose to smoke, allowing others who choose not to smoke or who might be affected by the smoke to have their own spaces. We ask that all of our clients respect these designated areas to ensure the comfort and well-being of everyone at our facility.
Still have questions about treatment?
Our admissions specialists are here to explain the process, answer any questions you may have, and ensure you're getting the help you need to live a healthy life free from addiction.
Call and speak with one of our caring team members about help for you or a loved one.