Scottsdale Mental Health
Residential Treatment
Get treatment at our Scottsdale mental health residential center
Cornerstone's Mental Health Residential Treatment Center in Scottsdale
Cornerstone's Scottsdale residential mental health program offers hope for individuals seeking healing in a serene and nurturing residential environment.
Seeking to understand the unique struggles of our clients, we're dedicated to drawing out the innate strength and potential in each person. Our approach, which harmonizes the mind, body, and spirit, allows our skilled clinicians to guide clients on a transformative path to healing and lasting well-being.
As a premier residential treatment facility in Scottsdale, Arizona, we've been honored to watch countless individuals rediscover joy, peace, and personal growth. Our greatest joy is watching our clients blossom into resilient, confident people equipped to embrace life's experiences.
Reach out today to learn more about our program in Scottsdale, Arizona, and how we can help you or a loved one on the path to healing.

Addictions we treat at
Cornerstone
Mental Health Conditions We Treat
At our Scottsdale residential facility, we have designed a comprehensive program that addresses a broad spectrum of mental health conditions. With Cornerstone's team of experienced professionals, we commit to providing personalized care tailored to the needs of every individual. Explore the details below to discover the mental health conditions we specialize in treating and learn how we can be a part of your healing journey.
Understanding the complex nature of anxiety disorders, our residential treatment for anxiety is designed to dive deep into identifying and overcoming triggers.
We empower individuals with techniques to manage overwhelming moments, promote relaxation, and cultivate a sense of security.
Depression and Depressive Disorders
At our residential treatment center, we provide a comprehensive approach to treating depression and depressive disorders.
Recognizing the deep emotional and physical toll it can take, our therapies focus on building resilience, fostering self-worth, and rediscovering life's joys and purposes.
Post Traumatic Stress Disorder
Living with Post Traumatic Stress Disorder can present complex challenges to overcome.
Our PTSD residential treatment program is focused on helping clients learn to healthier processing of traumatic events, building coping mechanisms, and restoring a true sense of safety to daily life.
Borderline Personality Disorder
Navigating the world with Borderline Personality Disorder or traits can take a massive toll on your sense of self and relationships.
Our BPD residential treatment program emphasizes emotional self-regulation, interpersonal effectiveness, and fostering a stable sense of self to help individuals thrive.
Both childhood trauma and adult trauma can leave lasting scars, but trauma can be overcome.
We offer specialized treatments addressing the unique challenges each presents, helping individuals process their experiences and find strength in healing.
Recognizing the distinct challenges of Bipolar disorders, our residential treatment for bipolar is dedicated to understanding a person's unique cycles.
While each bipolar experience is unique, we emphasize stability and provide tools for personal and professional balance.
The pain of losing someone or something significant can be profound.
In our residential program for grief and loss, we take a compassionate approach, focusing on understanding the stages of loss, honoring memories, and seeking a hopeful path forward.
With fluctuations that can disrupt life, treatment for mood disorders requires a nuanced approach.
Our residential treatment program for Mood Disorders focuses on balancing  emotional states, restoring daily functioning, and guiding individuals toward a more stable, fulfilling life.
The cycle of codependency can be challenging to break. 
In our residential treatment for codependency, we empower individuals to recognize unhealthy patterns, establish boundaries, and nurture balanced and mutually respectful relationships.
At Cornerstone Healing Center, we believe in the power of individualized healing. Recognizing that each person's journey is unique, our program approach centers around tailored treatments. We rely on evidence-based and science-backed treatments that address our client's specific mental health challenges.
Why Chose Our Scottsdale Residential Program
Benefits for
Scottsdale Residents
Discover the unique advantages of Cornerstone's Residential Drug Rehab Center, crafted to provide transformative healing and lasting resilience.
What to expect at our Scottsdale program
Below is the list of the features we offer at our residential facility:
The beautiful view of the outdoor area of one of our Scottsdale residential behavioral health facilities. A large pool, several patio areas with comfortable seating, and a scenic desert view. 
Our Comprehensive Path to Well-being
Building a Supportive Community: Mental health issues can often lead to feelings of isolation. Being amidst others undergoing similar journeys fosters camaraderie and mutual understanding.
Integrating Trauma-Informed Care: Recognizing trauma's profound impact on an individual's mental well-being, our trained professionals approach each client's care with sensitivity and understanding, ensuring they feel safe and supported throughout their healing journey.
Expanding the Wellness Toolkit: We empower our clients with tools and techniques to navigate life with a calm and balanced approach.
Mastering Essential Life Skills: Beyond therapeutic care, we instill life skills that prepare clients for life after treatment. Financial skills, vocational skills, conflict resolution, and more equip clients to face life's challenges, fortifying their journey toward lasting well-being.
Prioritizing Personal Growth: We nurture each individual's unique path to self-discovery and empowerment.
Maria Tisci - Alumni Testimonial
Watch the testimonial from one of our treatment alumnus:
"Having support from people who have gone through things that you've gone through and understand you and not judge you, and you can tell that they actually want to help you. It was something I had never had before."
Maria's experience at Cornerstone Healing Center
Therapy in
Residential Treatment
Cognitive Behavioral Therapy
Cognitive Behavioral Therapy (CBT) is a therapeutic approach that assists individuals in recognizing and altering negative thought patterns that contribute to detrimental behaviors or emotional challenges.
Dialetical Behavioral Therapy
Dialectical Behavioral Therapy (DBT) equips individuals with skills to stay present, manage stress effectively, control emotions, and enhance relationships using strategies centered on acceptance and change.
Eye Movement Desensitization and Reprocessing (EMDR) is an evidence-based therapy used to treat mental health conditions that aid individuals in addressing and easing the distress linked to traumatic recollections.
Meet Our Residential
Behavioral Health Team
Lionel is a Licensed Independent Substance Abuse Counselor (LISAC) with over 4 years at Cornerstone. Passionate about helping those with addiction and mental health struggles, and he has trained as an EMDR therapist, adopting a trauma-informed approach to find and treat underlying root causes with empathy.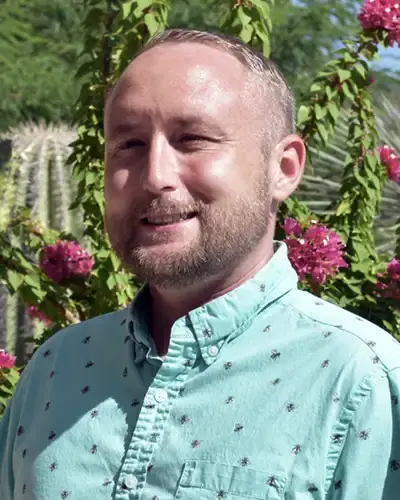 Nate began his own recovery journey in 2010 and earned a Master's in Social Work from ASU. He's been in the Behavioral Health field since 2013. Specializing in CBT, DBT, and grief, Nate's role includes being a Primary Therapist and Clinical Lead, underlined by his passion for helping others who struggled as he did. 
Insurance Providers We Accept
Tricare offers coverage for substance abuse treatment, here's how to begin the process of getting treatment.
FAQs About

Mental Health Treatment
Get answers to the most commonly asked questions about mental health residential treatment.
What is a behavioral residential health program?
A behavioral health residential treatment program is a specialized, intensive treatment setting designed for individuals who require consistent therapeutic intervention and support for mental health issues. This type of program typically provides 24-hour care in a non-hospital setting. Here's a more detailed description:

Purpose: The primary goal of a behavioral health residential treatment program is to offer a structured, supportive environment where individuals can focus on their recovery from mental health disorders, substance use disorders, or co-occurring disorders. The program is usually designed for those whose symptoms are too severe for outpatient care but who don't necessarily require inpatient hospitalization.

Setting: These programs are typically housed in residential facilities, ranging from homelike environments to more institutional settings. The idea is to create a safe, nurturing environment where individuals can work on their recovery while learning the skills needed to transition back to everyday life.

Therapeutic Approach: Residential treatment programs combine individual therapy, group therapy, and sometimes family therapy. They might incorporate a variety of therapeutic modalities, including cognitive-behavioral therapy, dialectical behavior therapy, trauma-informed care, and more.

Duration: The length of stay varies depending on individual needs, the severity of their condition, and the specific program. Some people might stay for a few weeks, while others might remain in treatment for several months.

Staffing: These programs usually have a multidisciplinary team that includes psychiatrists, psychologists, social workers, therapists, nurses, and other support staff. This ensures that individuals receive comprehensive care that addresses their well-being.

Treatment Focus: Beyond addressing immediate mental health or substance use challenges, these programs often emphasize life skills, coping mechanisms, stress management, and other tools that help individuals build a foundation for long-term recovery.

Aftercare: Once a resident completes the program, the treatment team will usually develop an aftercare plan. This might include outpatient therapy, support group meetings, or other follow-up services to help ensure the individual's continued recovery.
How do I know if this program is right for me or my loved one?
Determining the appropriateness of Cornerstone's behavioral health residential treatment program for yourself or a loved one involves considering several factors:
Severity of Symptoms: This program is designed for individuals whose symptoms present serious consequences in their day-to-day lives, meaning that they wouldn't benefit from outpatient care but don't require inpatient hospitalization.
Previous Treatment: If outpatient treatments or other forms of therapy have not been effective, a more intensive residential setting might be beneficial.
Need for Structure: Those who benefit from a structured, 24/7 therapeutic environment often find our residential programs effective.
Support System: Our residential setting might be more suitable if there's a lack of a supportive environment at home or too many distractions and triggers.
Co-occurring Disorders: Our residential program offers integrated treatment for individuals with mental health and substance use disorders.
Professional Assessment: A comprehensive assessment from a mental health professional can guide the most appropriate level of care.
It's essential to consult with our admissions department to discuss specific concerns and get a recommendation tailored to individual needs. Every person's situation is unique, and the best treatment setting will vary based on those factors.
Can I schedule a tour of the facility before admitting?
Yes, you can always tour Cornerstone Healing Center before admission. We highly recommend that all clients feel comfortable and informed before starting their journey with us. 
Is your residential facility licensed and accredited?
Yes, Cornerstone Healing Center is both licensed and accredited. We are licensed by the state of Arizona, ensuring we meet the necessary standards and regulations for providing care. Additionally, we are proud to be JCAHO (Joint Commission on Accreditation of Healthcare Organizations) accredited, an esteemed national recognition that shows our commitment to maintaining the highest quality of care and safety standards for our clients.
What is the admissions process?
Admission to Cornerstone Healing Center is simple:
Call our 24/7 admissions team.
Complete a quick pre-screening assessment.
Schedule your admission.
For a detailed breakdown, please visit our admissions process.
What types of therapies are offered?
We offer a comprehensive range of therapeutic approaches to ensure holistic treatment tailored to individual needs. Some of the therapies we provide include:
Cognitive Behavioral Therapy (CBT): A structured, evidence-based therapy that helps clients identify and challenge negative thought patterns and behaviors.
Dialectical Behavior Therapy (DBT): Focuses on emotional regulation, distress tolerance, and interpersonal effectiveness.
Group Therapy: Offers clients a chance to share experiences and learn from others in a supportive group setting.
Individual Therapy: One-on-one sessions with a therapist, providing personalized attention and interventions.
Expressive Therapies: Such as art and music therapy, allowing for creative expression and processing emotions.
Family Therapy: Integrates family members into the therapeutic process to foster understanding and promote healing within the family unit.
Holistic Therapies: Techniques like yoga and meditation to promote overall well-being and mindfulness.
Our diverse range of therapies ensures that clients can benefit from a multifaceted approach to treatment, addressing all aspects of their well-being.
Do you offer both individual and group therapy?
Yes, we provide both group and individual therapy. Each format has its unique benefits in a mental health residential setting:
Individual Therapy: This one-on-one approach allows for personalized attention and tailored interventions. Clients can explore deeply personal issues, traumas, and challenges with a therapist in a private, confidential setting.
Group Therapy: This communal setting fosters a sense of belonging and mutual support which is essential in the healing process. Clients can share experiences, learn from others, and practice interpersonal skills in a safe environment. Group therapy reinforces the idea that individuals are not alone in their struggles and can benefit from shared experiences.
These therapy formats create a comprehensive therapeutic experience, addressing personal challenges and promoting community healing and connection.
Is family therapy or involvement a part of your program?
Yes, we believe in the essential role of family integration in the treatment process at Cornerstone Healing Center. However, it's paramount that family involvement is constructive and supportive of the client's recovery journey. As such, family members or loved ones must be approved by our therapeutic team. This ensures that they are healthy contributors who will genuinely encourage and foster your path to recovery.
Do you incorporate holistic or alternative therapies?
Yes, at Cornerstone Healing Center, we believe in a comprehensive approach to treatment that goes beyond traditional methods. We integrate holistic and alternative therapies into our programs alongside standard therapeutic interventions. Our commitment is to provide treatments that address the mind, body, and spirit. However, it's crucial to note that we only incorporate holistic and alternative therapies that have a solid scientific foundation and are effective in supporting recovery.

This blend of traditional and holistic treatments ensures our clients receive a well-rounded therapeutic experience that addresses all facets of their well-being. We aim to enhance the overall healing process by employing evidence-based holistic interventions, promoting a deeper, more sustainable recovery.
Are there opportunities for recreational or expressive therapies (art, music, etc)?
Yes, at Cornerstone Healing Center, we recognize the immense therapeutic value of recreational and expressive therapies. We offer a variety of these therapies, including:
Art Therapy: A medium that allows clients to express and process emotions through creative avenues.
Music Therapy: Utilizes music as a form of expression and healing, whether through listening, playing, or creating.
Yoga: Emphasizes mindfulness, body awareness, and the connection between the mind and body for holistic healing.
We understand the need for creativity and self-expression in the mental health recovery process. These therapies not only offer relaxation and enjoyment but also serve as powerful tools in healing, self-discovery, and personal growth.
How are medications managed?
At Cornerstone Healing Center, the management of medication is taken seriously and is handled with utmost care to ensure the safety and well-being of our clients. Here's how we manage medication:
Initial Assessment: Upon admission, each client undergoes a thorough medical and psychiatric evaluation to determine current medications and their appropriateness for the individual's treatment plan.
Dedicated Medical Team: We have a dedicated team of medical professionals, including psychiatrists and nurses, who oversee the administration and monitoring of medications.
Regular Monitoring: The effects and efficacy of prescribed medications are regularly monitored. Adjustments are made as necessary based on the client's progress and any potential side effects.
Medication Education: Clients are educated about their medications, including the purpose, potential side effects, and any interactions. This ensures that clients are informed and can actively participate in their treatment.
Coordination with Outside Providers: If a client has an existing prescription from an outside provider, our team coordinates with them to ensure continuity of care and proper medication management.
Safe Storage: Medications are stored securely to prevent misuse or unauthorized access. Clients receive their medications as prescribed under the supervision of our medical team.
Our primary goal is to provide a safe and therapeutic environment where medication management is integrated seamlessly into the individual's comprehensive treatment plan.
What insurances do you accept for residential behavioral health?
Yes, Cornerstone Healing Center accepts insurance to help cover treatment costs. We work with various insurance providers to ensure our clients can access the care they need. Some of the insurance providers we work with include:
Aetna: A leading provider offering a range of health insurance plans.
United Healthcare (UHC): One of the largest health insurance companies in the U.S.
UMR: A third-party administrator that provides medical benefit solutions.
Meritain: Offers health plans that prioritize flexibility and choice.
GEHA: A self-insured, not-for-profit association providing medical and dental plans.
Blue Cross Blue Shield: A nationwide federation of independent health insurance companies.
If your insurance provider is not listed or you have specific questions about coverage, please get in touch with our admissions team for more information and assistance.
Still have questions about treatment?
Our admissions specialists are here to explain the process, answer any questions you may have, and ensure you're getting the help you need to live a healthy life free from addiction.
Call and speak with one of our caring team members about help for you or a loved one.