Drug Rehab Health Insurance Coverage
Answering your questions about addiction treatment coverage
Get addiction treatment coverage
At Cornerstone, we recognize the intricate nature of addiction, understanding how it influences the mind, body, and soul. Our programs are designed to address surface symptoms and the underlying root causes, ensuring a holistic approach to recovery.
We utilize evidence-based strategies to ensure a thorough and lasting recovery. We're also aware of the financial stresses of seeking treatment. The good news is that numerous health insurance providers, recognizing our dedication to quality care, often cover our programs.
We realize that dealing with insurance details can be overwhelming, so we've compiled a thorough list of answers to most commonly asked questions about rehab coverage. Additionally, our admissions team is on standby to guide prospective patients and their families through the process, ensuring they are fully aware of their coverage options.

Addictions we treat at
Cornerstone
Will my Health Insurance Cover Drug Rehab?
Understanding health insurance can be tricky, especially when seeking drug rehab coverage. The good news is that insurance is required to cover substance abuse treatment according to federal law
1
. However, it's important to know that insurance policies have room to determine what types of treatment they will pay for. The coverage can vary depending on your plan, the company, and the state. It's crucial to look at your insurance details or talk to your insurance company to know what's covered. At Cornerstone, our admissions team helps people figure out their insurance benefits, ensuring they can get the help they need without worrying too much about the financial aspects.
How Do I Use My Health Insurance Rehab Coverage?
Using health insurance for drug and alcohol rehab can help lower costs substantially or in some cases completely. If you want to use your health insurance benefits, we can help. At any time, you have the ability to contact your insurance company and get details on your specific policy coverages. If you'd like to save yourself the time and stress of doing this yourself, you can fill out our
insurance verification form
or give our admissions team a call and we will pull a verification of benefits for you or your loved one. Once we receive your insurance verification, we will have detailed information about your coverages and deductibles. From here, you can move forward with making plans for treatment admission.
Frequently Asked Questions
General coverage Questions
We Accept Most Health Insurance Plans
We can help you verify your benefits and get you a clear picture on your drug rehab coverage details. 
Facility and Treatment Options
Treatment Frequency and Relapses
Mental Health and Dual Diagnosis
Cost Factor
Description
Deductible
This is the amount you pay before your insurance begins to cover costs. For instance, if your policy has a $1,000 deductible, you'll need to pay the first $1,000 of your treatment costs.
Co-payment
(or copay)
A fixed amount you pay for a specific service. For instance, with a $30 copay for therapy sessions, you'll pay $30 each time you attend a session.
Coinsurance
After your deductible is met, you might still be responsible for a percentage of the costs. For example, with 20% coinsurance on a $5,000 inpatient treatment after meeting the deductible, you'd pay $1,000, and insurance would cover the rest.
Out-of-Pocket
Maximum
The most you'll have to pay in a year before insurance covers 100% of the allowed amount. If the maximum is $6,000 and you've paid $5,000 in other costs, you'd pay another $1,000 before insurance covers all subsequent costs for the year.
| Type of Drug Rehab | Description |
| --- | --- |
| State-Funded Rehab Centers | These are facilities funded by the state, designed to support residents who may not have the means to pay for private rehab. They often have limited resources and might have waiting lists. |
| Non-Profit Organizations | Various non-profit organizations offer free or low-cost drug and alcohol rehab services, often funded through donations, grants, and other charitable means. |
| Faith-Based Rehabs | Many religious organizations provide free rehab programs. These often incorporate faith and spirituality into the recovery process. |
| University Research Programs | Some universities offer free treatment as part of research studies on addiction. Participants may access cutting-edge treatments in exchange for their involvement in the study. |
| Local Community Health Clinics | Many community clinics provide free or sliding-scale addiction services, emphasizing outreach to vulnerable populations in their areas. |
Treatment Outcome and Follow-up
Privacy and Confidentiality
Additional Services and Support
Policy Changes and Updates
Meet Our Arizona Clinical Team
Lionel is a Licensed Independent Substance Abuse Counselor (LISAC) with over 4 years at Cornerstone. Passionate about helping those with addiction and mental health struggles, and he has trained as an EMDR therapist, adopting a trauma-informed approach to find and treat underlying root causes with empathy.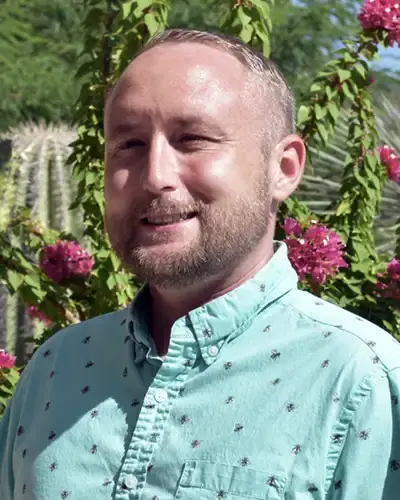 Nate began his own recovery journey in 2010 and earned a Master's in Social Work from ASU. He's been in the Behavioral Health field since 2013. Specializing in CBT, DBT, and grief, Nate's role includes being a Primary Therapist and Clinical Lead, underlined by his passion for helping others who struggled as he did. 
Call and speak with one of our caring team members about help for you or a loved one.