Rehab admissions process overview
Getting Help for addiction Shouldn't Be Hard
Cornerstone strongly believes that seeking help for addiction should be easy and accessible. We are dedicated to helping people on their journey to recovery by making the process simpler. We know that addiction is a complicated problem that can affect anyone, so we want to remove unnecessary obstacles that often stop people from getting treatment. Our goal is to make the process easier, break the stigma around addiction, and help individuals and their loved ones take the important first step toward healing.
Our approach is centered on getting addiction treatment quickly and without complications, which can save lives. We offer services tailored to each person's unique needs, ensuring that anyone seeking help can find a suitable and accessible solution. By promoting simplicity and easy access, Cornerstone continues to significantly impact the fight against addiction, empowering individuals to take control of their lives and start a journey toward long-lasting recovery.
Rehab Admission in 3 Simple Steps
Getting started with Cornerstone's rehab admissions process is as easy as one, two, three. First, give us a call to speak to one of our admissions specialists. Then, you'll complete an assessment to help us understand your needs. Finally, we'll work with you to schedule your admission. It's a simple and straightforward process, making it quick and hassle-free to begin your journey toward recovery.
Our admissions team can be reached 24/7 to discuss your options for getting the help you need.
Complete Our Pre-Screening Assessment
Our pre-assessment is a quick questionnaire that helps us determine your individual needs as a client. 
Once we have completed your assessment, you're ready to admit! Our team will schedule a time that works for you.
What to pack for your rehab stay
When getting ready to go to drug rehab, an essential part of the rehab admissions process is to know what to pack to make the most of your time. First, you should bring important papers like your ID, insurance cards, and medical records. These papers help the rehab staff help you better.
You'll also need comfy clothes for your stay. The length of your stay will depend on the level of care you're admitted to, your treatment plan, and individual progress. Plan to wear casual clothes, athletic clothing, sneakers for activities or exercise, and pajamas. Make sure your clothing is appropriate.
Don't forget your hygiene products like a toothbrush, shampoo, and any medicine you need, all in their original containers. Avoid products containing alcohol when you are shopping or packing for your rehab stay.
It's also a good idea to bring a journal or notebook too, so you can write down your thoughts and track how you're doing during your treatment. This can be helpful for your recovery.
Meet Our Arizona Treatment Team
Lionel, a Licensed Independent Substance Abuse Counselor (LISAC) with over 4 years at Cornerstone, is dedicated to help those battling addiction. As a skilled EMDR therapist, he embraces a trauma-informed strategy to address the root causes of addiction, offering a compassionate approach to treatment.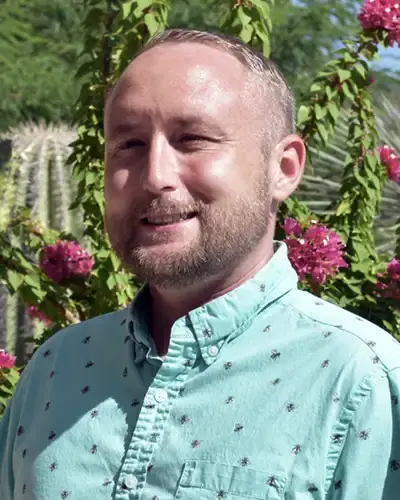 Since starting on his recovery path in 2010 and obtaining a Masters in Social Work from ASU, Nate has been active in the Behavioral Health domain since 2013, and now serves as Cornerstone's clinical lead. With expertise in CBT, DBT, and grief counseling, he holds dual roles as a Primary Therapist and Clinical Lead, driven by a profound desire to assist others.
Supporting loved ones entering rehab
Here at Cornerstone, we're dedicated to supporting not only our patients but also their families who are crucial in the recovery journey. We understand that addiction affects more than just the person struggling with it – it touches the lives of those who care about them. 
We believe in educating and supporting loved ones. We want families to understand addiction better. We provide resources for families to learn more about the disease of addiction. When you know more, providing the proper support becomes more accessible.
Cornerstone also facilitates family therapeutic sessions. Addiction can cause a lot of stress and emotions in families. These sessions are like safe spaces where you can talk about what's happening, rebuild trust, and learn better ways to support your loved one in recovery. We believe that healing the person is connected to healing the family, and we're committed to helping you along the rehab admissions process and through the recovery journey.
Frequently Asked Questions
Get answers to the most frequently asked questions about the rehab admissions process. 
Can I have my cell phone?
At Cornerstone, we understand the importance of maintaining communication and a sense of normalcy during the recovery process. Therefore, we allow the use of cell phones after a brief blackout period once therapeutic goals have been achieved and at the discretion of our therapists. This policy acknowledges that staying connected with loved ones and the outside world can be a valuable part of the healing process, provided it supports the individual's recovery journey and is deemed appropriate by our professional staff. 
What if I don't have an item I need?
We prioritize the well-being of our patients and understand that some may not have access to essential items needed for their treatment. We have a dedicated support system to ensure that patients lacking necessary items, such as clothing, personal hygiene products, or therapy materials, are provided with the essentials they require to engage fully in their treatment programs. Our commitment is to remove barriers and provide a supportive environment where every individual can focus on their recovery journey without worrying about the availability of essential items.
Family visitation is an integral part of the healing process at Cornerstone, and we encourage the involvement of loved ones in our patients' journeys to recovery. To ensure that these visits contribute positively to the therapeutic process, we have a policy where family visitation is permitted as long as our dedicated therapists approve it. This approach ensures that the timing and nature of visits align with the individual's treatment plan, allowing for a supportive and structured environment that promotes healing and reconnection with healthy family members.
Can I tour before I decide to admit?
We strongly encourage prospective patients and their families to tour our facility before making the important decision to admit for treatment. At Cornerstone, we understand the significance of feeling comfortable and confident in the treatment environment. To facilitate this, we have made it easy to arrange facility tours. Our staff can schedule tours at your convenience, providing a firsthand look at our welcoming and supportive setting. Touring our facility helps individuals and their families make informed choices about their treatment journey, ensuring that it aligns with their needs and expectations.
Still have questions about treatment?
Our admissions specialists are here to explain the process, answer any questions you may have, and ensure you're getting the help you need to live a healthy life free from addiction.
Call and speak with one of our caring team members about help for you or a loved one.