Immersive Transformative Scottsdale Drug Rehab
Begin your journey to freedom today
Call to Speak to an Admissions Specialist & Get Help Today!
At Cornerstone Healing Center we believe in helping individuals broken by addiction heal their minds, body, and spirit. 
We create an environment where rapid and miraculous recovery can and does happen. 
Our vision is to provide a safe space for long-term recovery, combining passion, structure, soul-searching, and fun to change lives from the inside out. And our vision is one we are passionate about. 
Our rehab centers are located in Arizona, with programs including Residential Rehab, Partial Hospitalization, Outpatient drug rehab, and Intensive Outpatient. 
We offer ongoing recovery coaching for all Cornerstone Alumni, emphasizing a holistic approach to lay the groundwork for sustainable recovery for yourself or a loved one.
Are you ready for real change? Then join us on the always profound and exciting journey towards healing. 
Our clients experience twice as much positive change from admission to discharge, compared to similar drug rehab programs.
Our Luxury Drug Rehab Centers
Cornerstone Healing Center offers luxury care at its Scottsdale and Phoenix drug centers. The facilities are designed to provide an unparalleled level of comfort and personalized care that allows individuals to heal both physically and mentally while they transition into a substance-free lifestyle.
Our facilities are set in a serene environment with stunning architectures and landscaping that foster a sense of peace and tranquility. Clients can enjoy beautifully designed private and semi-private rooms equipped with all the necessary amenities for a comfortable stay. 
Our residential and supportive housing environments feature peaceful and calming common areas, and outdoor spaces for relaxation and reflection.
Overcome Substance Abuse at Cornerstone Drug Rehab Scottsdale
If you're currently grappling with substance abuse, we want you to know that there's always hope and recovery is within your reach.
Overcoming addiction can feel overwhelming, but please remember, you don't have to face this challenge alone. We're here to walk alongside you on your journey to recovery.
By merging scientific methods with spiritual guidance, we have created a safe, nurturing addiction rehab that fosters rapid healing and long-term recovery.
You are more than your addiction; we are committed to helping you rediscover your strength, self-worth, and potential.
Our dedicated team in Scottsdale and Phoenix, Arizona, are waiting to offer you the professional support, compassion, and tools you need to overcome substance abuse.
Remember, it's never too late to reclaim your life from addiction. With Cornerstone Healing Center, a healthier, happier, and addiction-free life is not just a dream but a reachable reality.
Get Expert Addiction Care at Our Scottsdale Drug Rehab:
A comprehensive assessment of your individual needs and goals to create a personalized addiction treatment plan. Treatment for co-occurring (or dual diagnosis) behavioral health conditions that exist alongside Substance Use Disorder.
Evidence-based therapies such as cognitive behavioral therapy, dialectical behavior therapy, and trauma-informed care.
Holistic approaches like yoga, meditation, art therapy, and music therapy.
Varying levels of medical supervision depending on level of care.
Access to nutrition counseling and physical fitness activities for overall health and wellness.
Family involvement in the recovery process through Common Ground or family sessions with a therapist.
Aftercare planning that includes relapse prevention strategies for long-term success in sobriety.
Client Family Testimonial
Watch this heartfelt testimonial video from a family who experienced the transformative power of Cornerstone Healing Center's holistic approach to substance abuse treatment firsthand.
3 Types of Programs at Cornerstone
Our Residential and PHP programs will help you stay focused on getting better and staying away from drugs and alcohol. In these levels of care, our clients reset and heal from addiction.
Our Intensive Outpatient and Standard Outpatient treatment are designed to allow you to receive treatment at the outpatient treatment center during scheduled hours in the week.
Sober Coaching provides coaching to help you step back into life while having the support you need to continue in recovery. We will help you set goals and work with you to achieve them.
GET STARTED - heal mind, body, and spirit
Addiction Rehab Programs at Cornerstone
Our residential treatment center provides the highest level of care for addiction. Clients can enjoy our beautiful luxury residential center in Scottsdale, Arizona.
Partial Hospitalization provides our clients an immersive experience where clients build a solid foundation that promotes long-term recovery.
Intensive Outpatient clients attend treatment  part-time, 3-5 days a week. Ideal for clients who have completed a residential and need continued support.
Outpatient drug rehab is our lowest level of care, with clients attending treatment part-time, 3 days a week at our Scottsdale drug rehab facilities.
Navigation or Sober Coaching provides recovery support, guidance, and life skills to clients after they complete treatment, to help guide them in their early recovery.
We believe in helping people broken by addiction to heal mind, body and spirit. By overlapping science with spirituality, we create an environment where a seemingly miraculous healing event sufficient to bring about recovery can happen rapidly.
Our Vision is to create a safe environment for healing and long term recovery from drug addiction and alcoholism. Through passion, structure, soul-searching and fun, we seek to change lives from the inside out.
Meet Our Arizona Clinical Team
Lionel is a Licensed Independent Substance Abuse Counselor (LISAC) with over 4 years at Cornerstone. Passionate about helping those with addiction and mental health struggles, and he has trained as an EMDR therapist, adopting a trauma-informed approach to find and treat underlying root causes with empathy.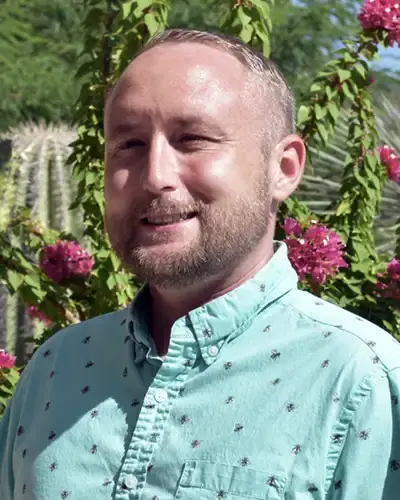 Nate began his own recovery journey in 2010 and earned a Master's in Social Work from ASU. He's been in the Behavioral Health field since 2013. Specializing in CBT, DBT, and grief, Nate's role includes being a Primary Therapist and Clinical Lead, underlined by his passion for helping others who struggled as he did. 
Meet our passionate and caring clinical staff who treat addiction with compassion.
Call and speak with one of our caring team members about Addiction help for you or a loved one.
The growing fentanyl problem in Arizona
The accelerating availability of Fentanyl has fueled a disturbing increase in addiction rates, leading to the devastating loss of over 290 American lives each day. This deeply troubling opioid crisis underscores the urgency and gravity of our mission at Cornerstone Healing Center.
Our facilities are explicitly designed and equipped to aid those battling with fentanyl addiction. 
In the face of adversity, Cornerstone stands firm, offering a lifeline to those consumed by the grip of addiction. Through our dedicated efforts, we aim to turn the tide on this growing crisis, restoring health, hope, and healing to the lives affected.
In 2019, roughly half of overdose deaths involved multiple drugs
American lives are lost to drugs every day.
Arizona overall drug use continues to rise
Indeed, recent reports reveal that drug use has touched 7.5% of adults in Arizona within the last year. Alarmingly, we have observed a surge in the use of substances such as fentanyl, cocaine, meth, and heroin across the state.
A complex interplay of factors contributes to this escalating trend. From the profound stress and isolation triggered by the COVID-19 pandemic to the ready availability of narcotics, socioeconomic pressures, and shifting public attitudes towards drug use, the reasons are multi-layered and nuanced.
Yet, regardless of the cause, the stark reality remains: Arizona is grappling with a growing substance abuse issue.
Still have questions about treatment?
Our admissions specialists are here to explain the process, answer any questions you may have, and ensure you're getting the help you need to live a healthy life free from addiction.
Call and speak with one of our caring team members about help for you or a loved one.
Cornerstone also offers
DUI classes

in Arizona
In addition to our drug and alcohol treatment, Cornerstone offers DUI classes, alcohol screening, and alcohol education. We are available to help you or a loved one who has received a DUI in Arizona and other states.
Cornerstone Healing Center's CEO and Recovery Expert Estil Wallace has been featured in press, podcasts, and publications across the nation, spreading the message of addiction recovery.
What clients and treatment professionals say about Cornerstone
Find more Cornerstone Reviews on
Visit Cornerstone's
Recovery Knowledge Base
This article highlights the various aspects of rehab for depression, providing insights and guidance to those on the complex path...
Read More