Get help for addiction in Arizona using UMR drug rehab coverage
Get Help for Addiction With UMR Drug Rehab Coverage
Are you looking for a UMR drug rehab? We are Cornerstone Healing Center, a Scottsdale rehab that accepts UMR health insurance. 
We understand your search for a path to a new life and it's our mission to put you on the right path.
Using a mind, body, and spirit approach, our clinicians guide our clients on healing that secures long-term recovery.
Our drug rehab is one of the best in Scottsdale, Arizona. Our clients have graduated from our programs and gone on to find success, happiness, love, and reunification.
If you call us today, we can help you understand your policy coverages and answer questions about any of our Arizona locations. 
We are happy to answer any questions that you may have about any of our drug rehab programs, treatment modalities, and standards of care. 

Addictions we treat at
Cornerstone
We accept UMR health insurance
When faced with a drug or alcohol addiction, it's natural to be concerned about the cost of treatment and whether your insurance will cover it.
Fortunately, Cornerstone Healing Center can help ease these worries by accepting UMR health insurance policies.
As a significant health insurance provider in the US, UMR offers an extensive range of coverage options for addiction treatment.
This means that if you require residential or outpatient care at one of our drug rehab programs, we can collaborate with your UMR insurance to ensure you receive the treatment you need without financial distress.
If you are concerned about covering your deductible, we can work with you to find a creative solution so that you can get the help that you need to overcome addiction. 
UMR, as a third-party administrator (TPA), works with self-funded employer-sponsored health plans to manage benefits, claims, and various health care services, including substance abuse treatment.
The extent of coverage for substance abuse treatment under a UMR-administered plan depends on the specific employer's chosen plan design and benefits package.
Generally, plans may include coverage for various levels of care such as detoxification, inpatient rehabilitation, outpatient therapy, and support groups.
Since UMR-administered plans vary significantly, it's essential to reach out for a detailed report of your coverage.
Cornerstone is proud to accept United Healthcare (UHC) health insurance for our drug rehab programs. Our goal is to help our clients achieve lasting sobriety and to lead fulfilling and productive lives. If you or a loved one is struggling with addiction, we encourage you to contact us today to learn more about how we can help.
Alumni Client Family Testimonial
I feel like Cornerstone gave him all the right tools. He knew how to do it. It was something we could have never done. I just could totally see kind of a personality change in him of wanting, and knowing, that he could achieve and do higher things and greater things. That has to be the people (at Cornerstone)."
Nicole A. - Mother of a Cornerstone Alumni
Understanding Your umr Health Insurance Card
Covered Drug Rehab Programs
Our residential treatment program is accommodated by most UMR Insurance plans, offering clients top-tier care in a residential setting in Scottsdale.
UMR Insurance policies may cover our PHP program, which is designed to provide an enhanced level of care for clients transitioning from a residential environment.
In our IOP, UMR policy holders can expect to engage in therapy sessions and group meetings approximately 5 days a week, with the provision of supportive housing.
Meet Our Scottsdale Clinical Team
Lionel is a Licensed Independent Substance Abuse Counselor (LISAC) with over 4 years at Cornerstone. Passionate about helping those with addiction and mental health struggles, and he has trained as an EMDR therapist, adopting a trauma-informed approach to find and treat underlying root causes with empathy.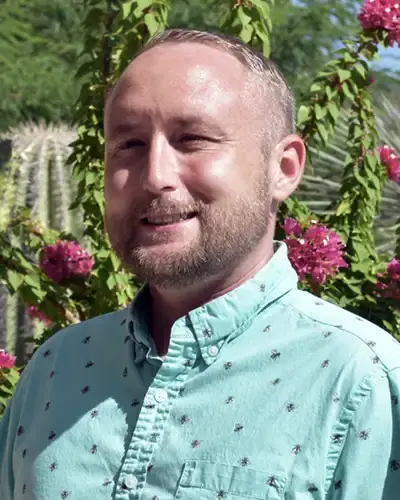 Nate began his own recovery journey in 2010 and earned a Master's in Social Work from ASU. He's been in the Behavioral Health field since 2013. Specializing in CBT, DBT, and grief, Nate's role includes being a Primary Therapist and Clinical Lead, underlined by his passion for helping others who struggled as he did. 
FAQs About

UMR
Get answers to the most commonly asked questions about UMR rehab coverage.
What types of treatment does UMR cover?
UMR covers treatment for drug and alcohol use disorders and co-occurring disorders. 
However, there may be certain limits on, for example, days in treatment or days in a specific level of care.
UMR Drug Rehab Coverage
UMR drug rehab coverage is an important benefit for members struggling with addiction. 
Drug rehab can be expensive but UMR's coverage can help to offset the cost.
To receive coverage, members must speak with a drug rehab specialist who will assess their needs and create a treatment plan.
Coverage may then be provided for outpatient or inpatient care. UMR's drug rehab coverage is comprehensive and can help members get the treatment they need to recover from addiction.
Alcohol Rehab
UMR alcohol rehab coverage is insurance coverage that helps to pay for the cost of alcohol rehabilitation. This insurance covers several different alcohol rehab programs and the coverage can help to reduce the cost of treatment.
Alcohol rehabilitation can be an important step in recovering from alcohol addiction and the UMR's alcohol rehab coverage can help to make treatment more affordable.
If you are considering alcohol rehab, it is important to check with your insurance provider to see if UMR's alcohol rehab coverage is right for you.
Co-occurring Disorder Treatment
UMR also covers treatment for co-occurring disorders. According to SAMHSA's 2018 National Survey on Drug Use and Health, more than 9 million adults in the United States are affected by co-occurring disorders.
UMR covers rehab and mental health services for those suffering from co-occurring disorders. 
A co-occurring disorder means that two or more disorders exist within a person, including a substance use disorder.
Examples of co-occurring disorders that occur with addiction:
Substance abuse and personality disorders
What programs are covered?
UMR may cover a range of levels of care for drug and alcohol treatment, such as:
Detoxification: Medical supervision and support for individuals withdrawing from substances.
Residential treatment: Residential treatment facilities where patients receive 24-hour medical care and therapeutic support.
Partial hospitalization programs (PHP): Day treatment programs that offer intensive therapy and support without requiring overnight stays.
Intensive outpatient programs (IOP): Non-residential treatment programs that typically involve a few hours of therapy per day, several days per week.
Outpatient treatment: Less intensive therapy and support services that can be attended to while maintaining daily routines and responsibilities.
Coverage for these levels of care will depend on factors such as medical necessity, preauthorization, and the specific terms of the plan. It's essential to review your insurance plan documents or contact UMR or your employer's benefits department for accurate and up-to-date information about your coverage.
Many insurance companies and third-party administrators, including UMR, often require pre-authorization for certain healthcare services, including drug and alcohol treatment.
Pre-authorization, also known as prior authorization, is a process where the insurance provider or administrator reviews a treatment plan to determine whether it's medically necessary and covered under the specific insurance policy. This approval process typically takes place before the treatment begins.
The good news is that we can help you submit insurance requirements. We are experienced with pre-authorizations. It's natural to feel overwhelmed when seeking treatment and to wonder about all of the potential requirements, but we can help take some of that stress off of your hands. Give us a call at (800) 643-2108 or submit your insurance verification to get the process started. 
How long of a stay in treatment Is covered?
The duration of drug and alcohol rehab stays that UMR covers can vary depending on several factors, such as the individual's specific insurance plan and the treatment needs determined by the healthcare provider. UMR health insurance plans cover a range of addiction treatment services, including inpatient/residential treatment, outpatient treatment, detoxification, and medication-assisted treatment.
To determine the length of stay that your UMR policy covers for drug rehab, it's important to review the individual's specific insurance plan and consult with our admissions team. Our admissions specialists can provide information on the treatment plans that UMR covers and work with the insurance company to determine the duration of coverage for addiction treatment services.
How many times is rehab covered?
The relapse rate can be high among individuals within their first year of recovery. Although Cornerstone has drastically improved the rates of relapse for people who complete our program.
Still those affected by substance use disorder may face relapses on their journey to sobriety. As substance use disorder is a progressive disease, recovering from it is a lifelong commitment. 
Relapse does not automatically mean failure. Studies also show that more than 85% of individuals relapse and return to substance abuse within one year of initiating treatment.
UMR pays for rehab as many times as considered medically necessary. If you are covered under UMR insurance, you can seek treatment after relapse.
Still have questions about treatment?
Our admissions specialists are here to explain the process, answer any questions you may have, and ensure you're getting the help you need to live a healthy life free from addiction.
Call and speak with one of our caring team members about help for you or a loved one.