Get help for addiction at Cornerstone's luxury rehab in Arizona
Get Help for Addiction With Cigna Drug Rehab Coverage
Cornerstone Healing Center is proud to accept Cigna for our drug rehab programs. We understand that quality treatment for substance use disorder is a priority, and when you choose us as your provider, you can rest assured that you are receiving the care and attention you or your loved one needs.
We offer rehab programs including residential treatment, partial hospitalization, intensive outpatient, and less intensive outpatient programs. Our programs provide services such as addiction counseling sessions, group therapy, family therapy, emotional support, aftercare plans, and more that Cigna Insurance may cover. 
Our knowledgeable staff can discuss coverage and see if our services suit you. We also provide free insurance verification so you know precisely what your plan covers and how much it will cost. If we can't help you, we will point you toward a facility that can. Contact us today to learn more about the insurance options available at Cornerstone Healing Center.

Addictions we treat at
Cornerstone
We accept Cigna health insurance
Cornerstone accepts most Cigna health insurance plans for our drug rehab programs. At Cornerstone, our fundamental belief is that everyone should have access to high-quality healthcare, and we are steadfast in our commitment to delivering the best possible care to all our clients.
We understand that dealing with insurance policies can sometimes be confusing. That's why we're here to help. 
If you are a Cigna member, our dedicated team will work with you to help you understand the specifics of your policy, ensuring you can leverage your benefits to their fullest extent.
We offer a Cigna insurance verification form to make this process as straightforward as possible. This tool will connect you directly with our admissions team so that you can quickly and accurately understand the coverage your Cigna policy provides for our services.
Cigna coverage for drug and alcohol rehab
Cigna, as one of the major health insurance providers in the United States, offers a variety of plans that include coverage for drug and alcohol rehabilitation services. 
Most Cigna insurance plans cover inpatient and outpatient drug and alcohol rehab services. This typically includes detoxification, residential treatment, partial hospitalization, intensive outpatient programs, and continued outpatient services.
The length of stay for inpatient treatment that Cigna will cover varies based on your specific plan and your medical necessity of treatment.
Before seeking treatment, it's crucial to verify your Cigna insurance benefits and understand the specifics of your coverage. This can include understanding your plan's deductibles, copays, and out-of-pocket maximums.
Our experienced admissions team can help you through the process of verifying your benefits and working with you to get you on the road to recovery. 
Cornerstone Success Stories - Patrick and Nicole
I feel like Cornerstone gave him all the right tools. He knew how to do it. It was something we could have never done. I just could totally see kind of a personality change in him of wanting, and knowing, that he could achieve and do higher things and greater things. That has to be the people (at Cornerstone)."
Nicole A. - Mother of a Cornerstone Alumni
CIGNA Covered Drug Rehab Programs
Cigna Health insurance plans provide coverage for our residential treatment program, ensuring clients have access to our top-tier care within a residential setting in Scottsdale.
Cigna insurance plans offer coverage for our Partial Hospitalization Program designed to provide enhanced care for clients transitioning from a residential environment.
Cornerstone's Intensive Outpatient is also likely covered by Cigna plans. Our facilities have supportive housing available for those who need it in conjunction with outpatient treatment.
Understanding Your Cigna Health Insurance Card
Understanding health insurance definitions
We Treat

Co-Occuring Disorders
Meet Our Scottsdale Clinical Team
Lionel is a Licensed Independent Substance Abuse Counselor (LISAC) with over 4 years at Cornerstone. Passionate about helping those with addiction and mental health struggles, and he has trained as an EMDR therapist, adopting a trauma-informed approach to find and treat underlying root causes with empathy.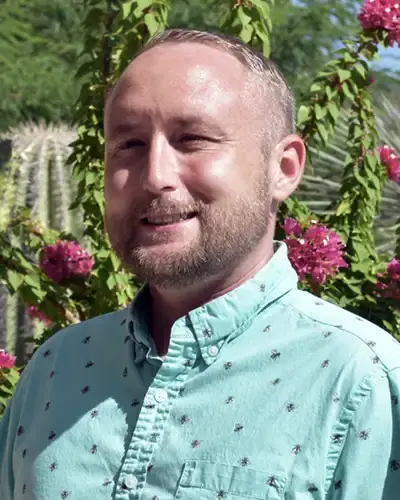 Nate began his own recovery journey in 2010 and earned a Master's in Social Work from ASU. He's been in the Behavioral Health field since 2013. Specializing in CBT, DBT, and grief, Nate's role includes being a Primary Therapist and Clinical Lead, underlined by his passion for helping others who struggled as he did. 
FAQs About

Cigna
Get answers to the most commonly asked questions about Cigna drug rehab.
What types of drug rehab programs does Cigna cover?
Cigna may provide coverage for all levels of care in rehab, including residential or in-patient care, partial hospitalization, detox program, outpatient program, and an intensive outpatient program.  
Drug classes included in Cigna rehab include alcohol, heroin, prescription opioids, sleep aids or sedatives, benzodiazepines, cocaine, marijuana, methamphetamine, prescription stimulants, and a few others.
Cigna Drug Rehab Coverage
Cigna is one of the leading insurance providers in the United States, offering its customers a wide range of coverage options. One type of coverage that Cigna offers is drug rehab coverage.
This type of coverage can help pay for the cost of addiction treatment and help cover the costs of related services such as transportation and lodging. Cigna offers both inpatient and outpatient drug rehab coverage and it also offers coverage for detoxification services.
In addition, Cigna's drug rehab coverage includes a wide range of benefits, such as access to counseling and support services. As a result, Cigna's drug rehab coverage is an excellent option for those who are struggling with addiction.
Cigna Alcohol Rehab Coverage
Cigna alcohol rehab coverage can help you get the treatment you need to recover from alcoholism. Alcoholism is a serious disease that can have lasting effects on your health, your work, and your relationships.
You can overcome addiction and start living a healthy, productive life with proper treatment. Cigna provides coverage for a wide range of alcohol rehab services, including detoxification, counseling, and aftercare.
In addition, Cigna offers a variety of resources to help you make the most of your treatment including support groups and online tools.
If you or a loved one is struggling with alcoholism, Cigna alcohol rehab coverage can help you get the treatment you need to get on the road to recovery. 
Cornerstone Healing Center is a Scottsdale, AZ, alcohol rehab that accepts Cigna. We can help figure out the details of your Cigna policy. 
Dual-Diagnosis Treatment (Co-occurring Disorders)
According to the National Alliance on Mental Illness, approximately 1 in 5 adults in the U.S. lives with a mental health condition. Of these adults, about 6% live with a serious mental illness.
Many of these individuals also struggle with substance abuse or another mental health condition, a co-occurring disorder. While treatment for these disorders can be expensive, Cigna is committed to helping its members get the care they need.
Cigna's Behavioral Health plan covers outpatient and inpatient treatment for co-occurring disorders, as well as mental health services such as therapy and counseling.
With Cigna's help, individuals with co-occurring disorders can get the treatment they need to live happier, healthier lives. 
How do I find out what my policy covers?
Cigna offers several types of insurance plans, each of which provides different coverage. If you'd like help finding out the specifics of your policy, we can help you. We are able to retrieve your information directly from Cigna and get a full explanation of benefits. 
Our admissions specialists will then inform you on policy deductibles, out of pocket expenses, co-insurance, levels of care coverage, and any other questions related to your policy. Visit our insurance verification page to begin the process. 
Are there any restrictions on types of addiction treatment Cigna will pay for?
Cigna may require prior authorization for certain rehab services and may not cover certain services, such as experimental treatments.
How soon can I get into a rehab?
You can usually get into rehab within one to a few days if you have Cigna insurance coverage.
Still have questions about treatment?
Our admissions specialists are here to explain the process, answer any questions you may have, and ensure you're getting the help you need to live a healthy life free from addiction.
Call and speak with one of our caring team members about help for you or a loved one.