Drug Rehab for Benzodiazepine Use Disorder
Cornerstone offers drug rehab for benzodiazepine addiction
If you're seeking a benzo rehab program, we can help you. Benzo use disorder is serious and often fatal. The hardest part about beginning the process of recovery is the reality that benzo withdrawal can be extremely difficult. 
Cornerstone Healing Center has helped many clients begin the process of long-term recovery from benzodiazepine use. 
We can't stress enough how important it is to get help for a benzo addiction. Did you know that 16% of drug overdose deaths in the United States in 2020 involved a mix of opioids and benzodiazepines?
If you're addicted to benzodiazepines, you will need a strong and effective clinical and medical team to get you through the hardest days. 
Count on Cornerstone Healing Center to help you through the recovery process. We offer comprehensive drug rehab for benzodiazepine addiction. 

Addictions we treat at
Cornerstone
Benzo Residential Treatment Program
Our Benzo rehab facilities provide ongoing medical support and education on proper nutrition, healthy stress-relieving methods/activities, mindfulness practices such as meditation, and cognitive behavioral therapy (CBT) to address underlying issues leading up to benzodiazepine use disorder.
The main activities in our residential treatment facility are intensive therapy, process groups, and group therapy. We also include 12-step programs and another community supports to stay clean when they finish the program.
Our residential treatment center provides a combination of 12-step philosophy, CBT, and holistic approaches to help individuals regain control over their lives where they can.
The main activities in our residential treatment facility are intensive therapy, process groups, and group therapy. We also include 12-step programs and community support to stay clean when finished.
Our residential treatment center provides a combination of 12-step philosophy, CBT, and holistic approaches to help individuals regain control over their lives where they can.
Benzo Partial Hospitalization Program
Our Partial Hospitalization Programs (PHP) is an intensive form of substance abuse treatment.
PHP is a step down from inpatient or residential treatment and is used for clients who need a higher level of care than can be provided with weekly individual and group counseling sessions. PHP offers structure, accountability, and support to stabilize symptoms during recovery.
PHP is a viable option for individuals suffering from benzodiazepine addiction or dependence due to its intensity and structure.
Our PHP program typically includes group therapy sessions led by counselors and psychologists. During these group therapies, patients can openly share their experiences while providing invaluable support throughout recovery.
These groups often fall within therapeutic modalities such as cognitive behavioral therapy (CBT) or dialectical behavior therapy (DBT). Additional individual counseling sessions may also be available depending on the needs of each patient.
Cornerstone offers dual-diagnosis treatments specifically tailored toward those experiencing co-occurring disorders.
We Treat

Co-Occuring Disorders
Benzo Outpatient Programs
Cornerstone's intensive outpatient programs for benzodiazepine treatment are comprehensive and tailored to the needs of each individual.
The program addresses physical and psychological addiction and educates participants on the risks associated with long-term benzo use.
The program consists of Group Counseling sessions that focus on relapse prevention, coping strategies, maintaining sobriety, addressing any triggers that may prompt use, and exploring new ways to cope with anxiety or stress without relying on drugs or alcohol.
Individual therapy sessions help participants identify underlying traumas contributing to their struggle with benzos and other substances.
Attendees can also take part in educational workshops focused on understanding the risks associated with the misuse of these medications as well as exploring healthier alternatives for managing stress and tension levels.
In addition to traditional behavioral treatments such as Cognitive Behavioral Therapy (CBT) and Dialectical Behavior Therapy (DBT), Cornerstone also offers additional interventions such as music therapy which can be used to develop strong coping skills that are necessary for lasting change in addicts' lives.

With support on multiple fronts ― finding resources in one's own time when things get tough makes it easier for them to maintain recovery progress made during the recovery phase out of the Cornerstone facility's long-term success.
Family counseling sessions and our Common Ground family workshop aim to help families understand the dynamics of addiction and how to provide the most effective forms of support.
In addition, an individual aftercare plan is tailored for each participant to create a long-term recovery plan that accounts for any specific needs or issues that may arise in the future.
Cornerstone's benzodiazepine treatment program also includes services for family members and significant others of the individual being treated.
Lionel is a Licensed Independent Substance Abuse Counselor (LISAC) with over 4 years at Cornerstone. Passionate about helping those with addiction and mental health struggles, and he has trained as an EMDR therapist, adopting a trauma-informed approach to find and treat underlying root causes with empathy.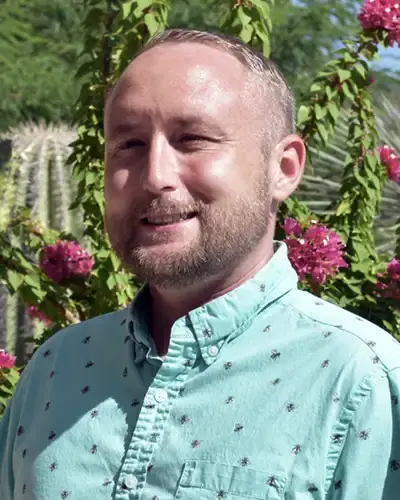 Nate began his own recovery journey in 2010 and earned a Master's in Social Work from ASU. He's been in the Behavioral Health field since 2013. Specializing in CBT, DBT, and grief, Nate's role includes being a Primary Therapist and Clinical Lead, underlined by his passion for helping others who struggled as he did. 
Get started at Cornerstone today
We are Cornerstone Healing Center—one of the best benzo rehabs in Scottsdale, Arizona. We offer Benzodiazepine addiction treatment dedicated to helping short and long-term users start a new healthy life without drugs or alcohol. Our facilities are JCAHO accredited, and our doors are open to anyone who wants real and lasting change. 
We offer many different addiction treatment programs. Our programs include residential rehab center, intensive outpatient treatment, and sober companion programs.
If you or a loved one is actively suffering from Benzodiazepine addiction, we are one of the best rehabs in Scottsdale, Arizona.
FAQs About

Benzodiazepine Addiction
Get answers to the most commonly asked questions about Benzodiazepine addiction and treatment.
What are benzodiazepines?
Benzodiazepines (benzos) are drugs that have a sedating and calming effect that are often prescribed for anxiety. 
Benzos can also help treat muscle spasms and in those with seizure-related conditions, they can reduce the number of seizures they experience. They are depressants that have a hypnotic effect. 
Benzodiazepine drugs are a part of ongoing research to see if they can also treat gallbladder issues, sleep apnea, problems in the biliary tract, and obesity.
The main issue with Benzos is the ability to become addicted after prolonged use. In some cases, Benzo's dependence or addiction sets in only three months. 
People who find themselves addicted or dependent on Benzodiazepine drugs such as Xanax, Ativan, or Valium will find that going cold turkey is dangerous. The Benzodiazepine detox process needs supervision from certified medical professionals, always. 
What are the signs of a benzodiazepine use disorder?
Once a person has become addicted to a Benzodiazepine, it's extremely difficult to hide. The signs of Benzodiazepine use can be very apparent and obvious, especially if mixed with other drugs.
The signs of benzodiazepine addiction include:
Hostility
Amnesia
Short-term memory loss
Super vivid and deep-seated dreams
Mood swings
Extreme fatigue
Engaging in high-risk activities, including driving after using the drug
Using benzos in conjunction with other drugs or alcohol
Inquiring close family and friends or acquaintances about benzos to get access to more
What are the side effects of benzodiazepine addiction?
As with any drug, there are side effects that can happen with short-term and long-term use. Especially for those that overtake the drug and feed into its hypnotic feelings, the side effects can be more severe.
Side Effects of Short-Term Use
Some minor side effects can happen when taking benzodiazepine in general, including:
Poor memory recall
Weak muscles
Vision gets blurry
Sick feeling
Your mouth becomes dry
You can't control your footing, especially for those who are older
Irregularity
Since benzodiazepine is a depressant much like alcohol, regularly using the drug can affect many central nervous system functions in your body.
Side Effects of Long-Term Use
If you are taking a benzodiazepine for a long term and eventually fall into overtaking it, then you may experience the following more severe side effects:
Post-traumatic stress disorder (PTSD)
Anxiety
Depression
Mania
Sleep issues
Psychosis
Sexual dysfunction
What prescription drugs are considered benzodiazepines?
Al

p

raz

ol

am

(

X

an

ax

)

Lor

az

ep

am

(

At

ivan

)

Ox

az

ep

am

Tem

az

ep

am

(

Rest

or

il

)

Cl

on

az

ep

am

(

K

lon

op

in

)

Ch

lord

iazep

oxide

(

Lib

rium

)

Diaz

ep

am

(

Val

ium

)

Fl

ur

az

ep

am

(

D

al

man

e

)

Cl

or

az

ep

ate

(

T

ran

x

ene

)
How does benzo addiction happen?
Long-term use of Benzodiazepine drugs can lead to dependence and addiction. Unfortunately, Benzodiazepines have strong abuse potential.
Even physicians who utilize Benzodiazepines to treat anxiety are warned that it is a short-term treatment.
People dependent or addicted to benzodiazepine drugs may take the pills orally more than the prescribed amount that the doctor recommends to get a constant feeling of sedation and relaxation.
Others may crush the benzodiazepine pills and snort them up through their noses for a more potent effect. Taking drugs orally does not have as immediate an effect as snorting them. When combined with opioids, too much snorted up the nose once can cause a quick overdose.
Still have questions about treatment?
Our admissions specialists are here to explain the process, answer any questions you may have, and ensure you're getting the help you need to live a healthy life free from addiction.
Call and speak with one of our caring team members about help for you or a loved one.